#UR_SDR HUIMP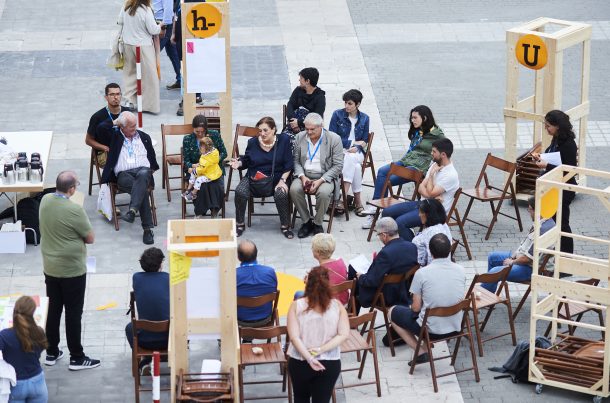 URBAN PLANNING, ARCHITECTURE AND ANTHROPOLOGY WORKSHOP. MAKING THE CITY OF TODAY: FROM URBAN EXPERIMENTS TO DIY URBANISM. Our cities concentrate the significant problems of our society (speculation, tourism, pollution…). Still, at the same time, they are the place that harbours the hopes of a different society: more just, democratic and ecological. In recent times we
URBAN PLANNING, ARCHITECTURE AND ANTHROPOLOGY WORKSHOP.
MAKING THE CITY OF TODAY: FROM URBAN EXPERIMENTS TO DIY URBANISM.
Our cities concentrate the significant problems of our society (speculation, tourism, pollution…). Still, at the same time, they are the place that harbours the hopes of a different society: more just, democratic and ecological. In recent times we have seen the emergence all over the planet of practices and experiments that try out other ways of planning and inhabiting urban space (DIY urbanisms, makeshift city, tactical urbanism…). This workshop explores from theory and practice these unique ways of making the city that we designate as forms of experimental urbanism. Ways of intervening in public space that allow us to speculate materially and conceptually with other possible states of the urban. With this starting point in mind, the workshop aims to learn how to develop modes of enquiry that allow us to investigate our urban worlds. It does so through a dialogue between two disciplines: architecture and anthropology, as we believe that new complicities are necessary to address the growing complexities of our urban worlds. The workshop combines several theoretical seminars with a series of practical sessions in which we will design and build in public space a device (an urban parliament) that will allow us to investigate the problems of the city that welcomes us and to prototype possible ways of speculating with the urban.
Programme
Monday, 29 July 2019
10:00 – Inauguration
10:30 – Theoretical seminar. City, complexity and collaboration
12:00 – Theoretical seminar. Speculating with the city: ways of investigating the urban.
15:30 – Organisation of work in groups. Statement of the issue: Designing an urban parliament.
18:00 – Drift walk to the place where the intervention will take place.
Tuesday, 30 July 2019
09:30 – Theoretical seminar. Experimental collaborations: architecture, anthropology and art.
12:00 – Design of a hemicycle for the Urban Parliament
15:30 – Development of the hemicycle prototype
Wednesday, 31 July 2019
09:30 – Development of the hemicycle prototype
15:30 – Development of the hemicycle prototype
Thursday, 1 August 2019
09:30 – Assembly of the parliament
12:00 – Assembly of the parliament
15:30 – Fitting out the space
18:00 – Parliamentary session
Friday, 2 August 2019
09:30 – Group discussion of the work carried out
12:00 – General sharing
13:30 – Closing